Generator Installation in Perinton, Canandaigua, Webster, & Nearby NY
Be prepared for the next power outage with a standby generator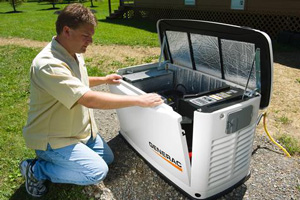 Storm ready. A permanent home generator is located outdoors, protected by a steel case. It's designed to turn on automatically if utility-supplied power is interrupted. Photo courtesy of Generac Power Systems.
Extreme weather is something that can't be controlled or even completely predicted. Unfortunately, major storms frequently cause power outages that can last for days or even longer. That's why more and more homeowners are choosing to protect themselves from power outages with permanent standby generator installation.
When severe storms take down the power lines, a whole-house generator installed by Marlock Electric can provide backup electrical power to keep key home systems operational. We install permanent generator solutions that provide better quality, durability, and protection than portable generators.
When we install a standby generator in your home, you will have total peace of mind knowing that the generator will work every time you need it without any hassle. If you're interested in getting a permanent solution to protect your home from power outages, call Marlock Electric at 1-844-747-2911 today or click below for a free estimate! We provide generator installation in Perinton, Canandaigua, Webster, Farmington, Victor, Mendon, Geneva, Rochester, Ontario, Fairport, and the nearby areas.
Benefits of permanent standby generators
Many people have felt the frustration of losing power for several days and being forced to throw away food or deal with not having hot water. When more severe storms knock out power for a week or two, some people are forced to temporarily leave their homes.
A permanent generator from Marlock Electric can end those problems. With a properly sized home generator, you won't need to empty your refrigerator or move into a hotel. There will be no need to call upon friends if you need to take showers, wash clothes, or enjoy the comfort of heated or air-conditioned living space. When the grid goes down, a home generator comes to the rescue with backup electrical power.
Our generators also offer the option for Mobile Link control, allowing you to run your generator remotely from anywhere. Gone are the days of hoping you have enough gas to keep your portable generator running. Get complete peace of mind with the ability to keep your generator working with the push of a button.
Permanent installations are preferable to portable generators
Our home generator services

Free estimates for all home generator installations
Propane generators
Natural gas generators
Complete turnkey whole-house generator systems
At Marlock Electric, we know that permanent standby generators are a significantly better option for homeowners than portable models. Portable generators can pose safety hazards if they're not set up or operated correctly.
By contrast, a permanent standby generator is installed in a safe location and has built-in controls to ensure safe operation under all conditions. Natural gas and propane are the preferred fuels for permanent home generators.
Marlock Electric installs home generators that are designed to come on automatically when utility-supplied electricity is interrupted. Special circuitry is installed between the generator and your main electrical service panel can allocate standby electrical power to different circuits. This control circuitry ensures that key home systems (water heaters, HVAC system, refrigerator, etc.) can keep operating.
With a portable generator, you have to pick and choose what's worth turning on and for how long, and that only lasts until you run out of gas. Those problems will not be an issue with a permanent generator.
Products
Generac has nearly 60 years of experience providing home electrical solutions and backup generators. Generac was the first to engineer affordable home standby generators, and they remain the #1 name in home backup generators today.
Generac Home Backup Generators
Generac standby generators provide comfort, security and convenience. The permanently-installed generator sits outside just like a central air conditioning unit and delivers power directly to the home's electrical system, backing up your entire home or just the most essential items.
Product Benefits & Features:
Runs on existing natural gas or LP fuel supply.
Delivers power directly to your home's electrical panel.
Automatic startup within seconds of a power outage.
Affordable, 24/7 backup power source.
All-weather durability.
Digital controls with Mobile Link compatibility.
Multiple product lines to choose from: PowerPact, Synergy, EcoGen, Guardian Series, QuietSource Series, and Protector Series.
Over the years, Kohler has become a multifaceted global family of brands that pave the way to enhance our customers' sense of gracious living! We have more than 50 manufacturing locations on 6 continents, and more than 30,000 Kohler associates, making us able to present the idea of gracious living in every corner of the world.
20 kW Generator
Our most popular generators for backup power provide award-winning reliability and performance. When you lose power during an outage or storm, the 20RESA KOHLER generator keeps your appliances working, the heat or air conditioning running and your security system on.
Product Features:
Reliable: Equipped with a heavy-duty, commercial-grade engine that stands up to extreme weather.
Quiet Operation: Quiet, neighborhood-friendly operation with sound levels similar to a typical central air conditioner.
Premium Power: PowerBoost™ technology provides power to start large loads such as central air conditioners without dropping power to other appliances.
Convenient: Runs on either natural gas or liquid propane (LPG) with simple switching between natural gas and LPG in the field.
Remote Management: Compatible with optional OnCue® Plus and OnCue® Plus Wireless Generator Management Systems, and Programmable Interface Module (PIM).
Outstanding Warranty: 5-year, 2,000-hour protection, and a corrosion-proof enclosure that's built to last.
Specifications:
Standby Ratings: 18 kW (18 kVa)
Hertz: 60 Hz
Alternator Type: 2-Pole, Rotating Field
Max Power at Rated RPM: 20.2 kWm (27.1 BHP)
Cylinder Arrangement: V-2
Get comfort & security with an expertly-installed whole-house generator
Severe weather is something that is unavoidable. It could be something as common as a thunderstorm taking out the power lines, or it could be something much more damaging. No matter what happens, be prepared for the next power outage with a new generator.
Call us today for a free estimate on permanent standby generator solutions! Marlock Electric provides generator services in Perinton, Canandaigua, Webster, Pittsford, Penfield, Walworth, Newark, Seneca Falls, Waterloo, Macedon, and the neighboring areas in Greater Rochester area.